Back to school: Hollywood veterans left TV, movie careers to teach in Las Vegas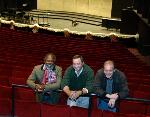 Hollywood's triple loss is Las Vegas' triple gain after three showbiz vets -- from left, actor Clarence Gilyard, screenwriter/producer Sean Clark and actor Michael Tylo -- left the glitter and glamour to teach in the film and theater departments at the University of Nevada, Las Vegas. PHOTOS By JOHN GURZINSKI/LAS VEGAS REVIEW-JOURNAL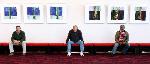 The classroom is in, the soundstages are out for, from left, screenwriter/producer Sean Clark ("Northern Exposure") and actors Michael Tylo ("Guiding Light") and Clarence Gilyard ("Die Hard"), seen here relaxing in the lobby of Artemus W. Ham Concert Hall on the UNLV campus. The trio of professors now teach at the university's College of Fine Arts.

Headline of the Variety variety:
"Ditch Glitz, School Cool."
Translation? "Reject Hollywood, Choose Academia."
Admittedly, no "Sticks Nix Hick Pix," the showbiz bible's iconic, 1935 story-topper declaring that rural audiences reject films about rural life. Yet if you tack "Flee With Glee to UNLV" onto our faux-headline, you've pegged three University of Nevada, Las Vegas professors.
Screenwriter/producer Sean Clark ("Northern Exposure," "Coach") and actors Michael Tylo ("Guiding Light," "All My Children") and Clarence Gilyard ("Walker, Texas Ranger," "Die Hard") discarded toiling in Tinseltown to prep students for industry careers.
Here, they discuss Hollywood, teaching and trading one for the other:
Michael Tylo
"I still get the occasional call to do television and films, and I keep my stuff sharp, that way I can inform my students of the latest developments," says Tylo, journeyman actor, soap star and artist in residence and professor in the film and theater departments since 2003. Also a staple on UNLV stages, he'll appear in Nevada Conservatory Theatre's "The Fantasticks" next month.
"There was a time when I worked just for money, but now I'm enjoying what I'm doing, I'm happily married and there are other considerations. I don't just go out and say, 'Well, that's paying so many dollars. It's a piece of crap, but I'll do it.' I'm not in that mindset."
Nor need he be in a three-decades-and-counting career highlighted by a reign as one of daytime TV's prime dudes, notably as "Guiding Light" archaeologist Quinton Chamberlain (aka Quint McCord), as well as stints on "All My Children," "General Hospital," "The Young and the Restless" and, briefly, "The Bold and the Beautiful," starring his ex-wife, Hunter Tylo. Prime-time-wise, numerous series appearances and the miniseries "Lonesome Dove" are among his credits.
Initially geared toward an academic career -- he earned a master of fine arts degree in theater in the early 1970s and was eyeing a Ph.D. -- fate took him toward the do it rather than teach it route.
"Once I fell into the professional arena, I thought, 'This is exciting. I'm working on and off-Broadway, and I'm going to run with this awhile because it can only help me as a teacher.' But somebody said, 'Do you want to try a soap?' and that worked for 17 years."
Like many New York-based soap actors, Tylo took advantage of the city's theater scene to do plays at night after daytime taping, appreciating the flexibility and security of his steady gig.
"I played an Indiana Jones type, a fashion photographer, all kinds of stuff on daytime, and I liked it because it gave me the opportunity to do other things," Tylo says. "When I came on 'Guiding Light,' Kevin Bacon was taking off, he was on before me, and Chris Walken. Some people use it as a steppingstone, and some say, 'Listen, this is the closest to a 9-to-5 I'll ever have, and I like it.' "
Once a student of legendary Uta Hagen, Tylo says he was impressed by her passion for discovering fresh talent, a satisfaction he says he also cherishes now that he has made his way to UNLV, where he teaches four classes a week.
"There are people I have taught since 2003 who are out there working and enjoying it and calling me saying, 'Thanks. You were right, it's a tough business, but I love it, and I can't do anything else.' And it doesn't necessarily mean actors and actresses," he adds.
"A good example is a kid who is at AFI (American Film Institute) getting his degree in producing, and I have another who is going to work at USA Network. I've got nothing to prove to anybody, but I sure like discovering new talent."